Plyco loves wood. If you're not in-store to purchase one of their products, the company simply invites you to "hug their timber" with them.
David Garvey, owner and director of Plyco, started the business 16 years ago in July 2003. "Some people dream of exotic beach getaways. Plyco staff dream of pine scented car fresheners", says David. "The grain, the colour, the scent, the performance. Our love affair with wood is great".
Plyco is a premier manufacturer, distributor and retailer of timber-based panel products based in Melbourne, Victoria. The company stocks, manufactures and sources hundreds of quality timber products – be it plywood, particle board, laminates or MDF – locally and from suppliers around the world.
"Sourced from all over the world in all sizes, thicknesses and grades, you could say our factories are the United Nations of timber", quips David.
With a skilled and passionate team behind high performance machinery like panel saws, beam saws and CNC Routers, Plyco has the facilities to manufacture for specialist requirements from precise cut-to-size to edge banding services.
Experienced staff service a wide customer base: the general public, DIYers, architects, designers, shop fitters, boat builders and cabinet makers, through good old-fashioned personalised service. They help cater for projects big and small when sourcing, manufacturing and delivering products on time.
Growth Phase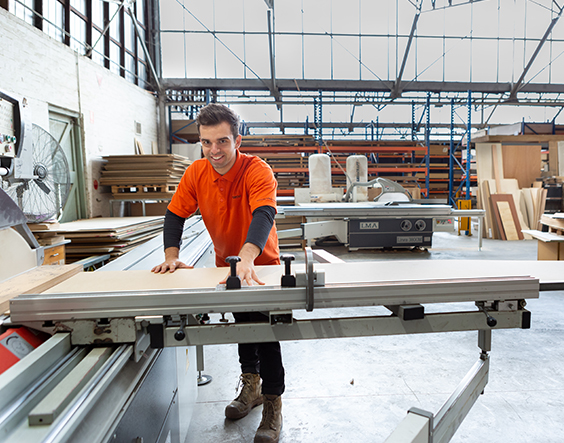 Over the past 12 to 18 months, Plyco has experienced significant growth, expanding their manufacturing and distribution facility to two locations across Victoria.
The company now has warehouses in Fairfield and Mornington and offer delivery services throughout the Melbourne metropolitan area and regional Victoria – as well as Australia-wide via couriers.
During this growth phase, Plyco needed additional working capital to maintain healthy cashflow, and also looked for a cost-effective finance solution to purchase additional stock from international suppliers.
"It's a business that runs very much on its cash-flow. It is in a growth phase at the moment", says David. "Some of our products we rely on imported components in our pressing. So as the business has grown, we've had to look more for imported plywood, imported laminate for our production factory here".
After being advised by their local bank that import and trade finance was out of their normal day to day operations, David approached GetCapital.
Two GetCapital business solutions were particularly suited to Plyco's needs: a Flexible Business Loan for his day-to-day operations and a second facility, an International Line of Credit.
"There are a couple of reasons I decided to go with GetCapital. They really seemed to understand what I was trying to achieve and came back with some solutions very quickly," says David. "They've become part of our business now. The Import Line of Credit has been very handy for us".
"I had a transaction the other day with one of our suppliers from Germany on Thursday. I submitted it to GetCapital on Friday for payment. On Monday the suppliers had been paid, the goods had been released and were on their way to Melbourne".