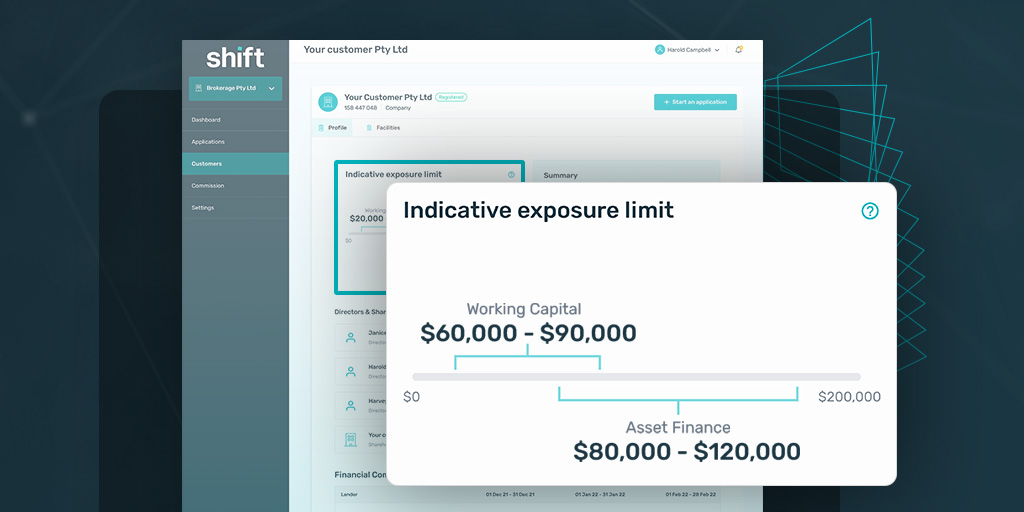 Shift, a provider of credit platforms to brokers and their clients, today announced the latest release of Shift Connect, focused on giving brokers access to client insights and data.
With Shift Connect brokers are now able to have a real time view of their clients' financial position. From indicative limits to a snapshot of the client's cashflow, brokers can use this information gain a deeper understanding of, and have better conversations with, their clients.
This release of Shift Connect enables access to insights at no cost, so brokers are able to determine the best financial solution for their clients. They can:
Run and view credit scores
See financial commitments with other lenders, including any missed payments
Get across income and expenses, broken down by month
Check any adverse markers on credit files
View the structure of the client/s business, including who directors and shareholders are, according to ASIC
Over time, Shift Connect should become an embedded part of a broker's daily workflow, according to Kristian McCausland, Sales Director of Shift.
"We've been working on this release since we rolled out Shift Connect last year," said Kristian.
"With this release we've created a dashboard that not only presents data, but takes it to the next level by turning it into actionable insights that brokers can use on-demand to engage with clients.
"For instance, we're analysing information in real-time from streaming transactional banking data so that brokers can easily see thresholds the client may be eligible for when it comes to asset finance and cashflow products."
Kristian continued, "This latest release is in response to brokers telling us that while accessing information for clients is great, they really need it presented in a way that can take the process of reviewing and recommending products to a customer down from days or hours to minutes. This is what Shift Connect does."
Travis Keay, a Director at Grove Finance, commented that the data analysis presented in the new release of Shift Connect, which he accessed as a beta version, fast-tracks the process of reviewing a client's situation and having the right conversation to help them out.
"There's so much information to take in and various systems to use to get a full view of a customer, that it can be really time-consuming," said Travis.
"What I've found with Shift Connect is that I can jump in, get a clear snapshot and know the right questions to ask, which saves the client time and helps me add more value to their business.
"It also helps me know which lender and product is best suited to my client."