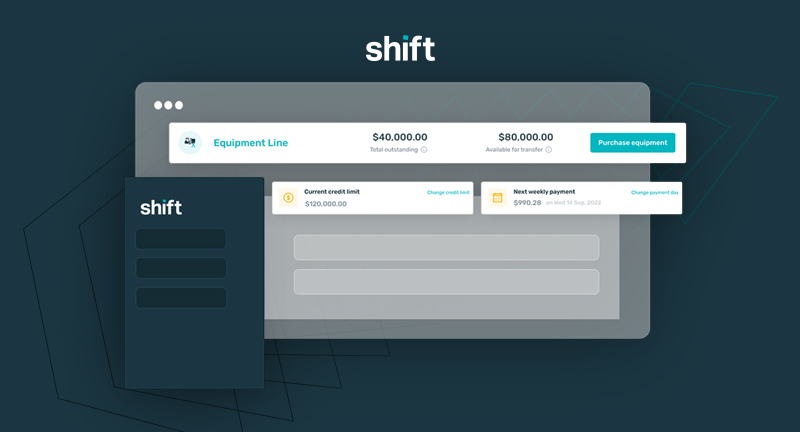 70% of Equipment Line transactions initiated by brokers
SYDNEY, AUSTRALIA – 8 June, 2023 – Brokers are looking to revolving credit products to give their customers certainty of spend, with over 70 per cent of transactions carried out through Shift's Equipment Line being initiated by brokers since its launch last year.
Equipment Line is Shift's revolving credit facility which gives businesses easy-to-access finance for equipment purchases, without the need to submit an application for every transaction, according to Kristian McCausland, Sales Director, Shift, a leading provider of credit and payment platforms for Australian businesses.
"While customers can initiate transactions themselves, the majority of Equipment Line transactions are being initiated by brokers, helping them add more depth to relationships with their customers," said Kristian.  
"We added the ability for brokers to initiate transactions following feedback on our Equipment Line trial last year, showing that listening to the insights of our network is key to developing financial solutions that work for them and give their customers choice in how they transact."
Shift's revolving credit strategy is focused on giving businesses a consistently clear view of how much capital is available to them, as well as control over when and how they access funds.
Equipment Line works to these principles, providing a funding limit for the business, rather than funding for a specific equipment purchase.
Businesses understand the capital they can access at any point in time, knowing it is at hand when they need it, rather than having to scramble when an opportunity arises or go through applications and credit checks for every purchase.
It was the success of Shift's first revolving credit product, the Business Overdraft, which led to the development of Equipment Line, with a maximum facility limit of up to one million dollars.  
The breadth of equipment funded for businesses ranges from second-hand equipment and fit-outs through to technology.
"The ability for brokers and their clients to leverage revolving credit products like Equipment Line is especially timely, with end of financial year looming and many businesses having instant asset write-off in their sights," said Kristian.