SME trade credit has not seen much innovation in the past 40 years, despite significant digitisation and technology advances across supply chains. The way trade credit has traditionally been supplied by non-financial entities is driven by market forces of supply and demand. Over time, it has created a power dynamic mismatch between buyers and suppliers, as the use of market power turns trade credit into a zero-sum game with gains on one side and losses on the other.
In particular, small businesses have very little bargaining power compared to larger entities, which benefit from having a greater number of potential suppliers in just about any marketplace. This impacts the ability of small businesses to demand – and receive – fair payment terms for the goods and services they produce.
Supply Chain Finance
Supply Chain Finance (SCF) is a buyer-led program that is a perfect example of this. With SCF, the balance of power in the trade relationship tends to sit squarely with the buyer who dictates the trade terms to its suppliers.
In theory, SCF should provide short-term credit that optimises working capital for both parties. In practice, however, too often it results in a Win-Lose scenario that amplifies the power of the larger party.
When fair payment terms and times are not effectively managed within the supply chain, small business cash flow suffers, along with growth potential. As the larger company exploits its market position to boost cash flow, they end up treating suppliers like a bank account.
On the other side of the ledger, evidence suggests that suppliers with strong market power are far more likely to be restrictive in the way they manage their trade portfolios and offer trade credit – in fact, they are more likely to provide less generous terms and manage them more aggressively.
The current in-house (captive) trade credit model causes problems to arise throughout the trade ecosystem. For example, how trade terms interplay with a businesses' trade cycle can have a profound impact on financial performance.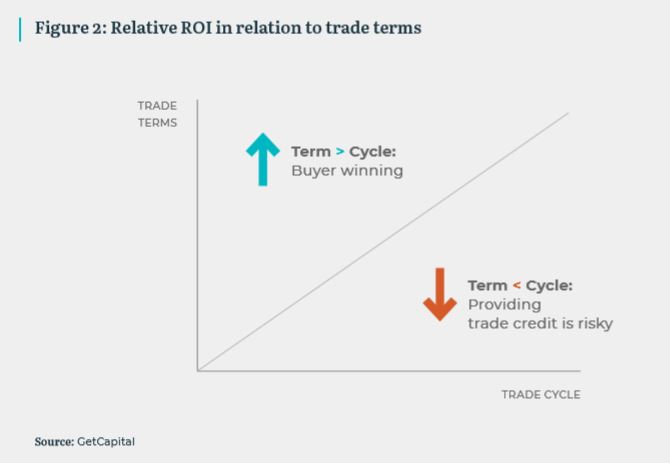 To learn more about SME Trade Credit, the case for a new model and how Shift Payments can help streamline your business, download the report.